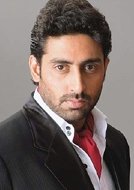 Abhishek Bachchan Biography
Some would say Abhishek Bachchan was born with a silver spoon in his mouth. But Abhi would disagree. Despite coming from an elite family of superstars, Abhishek Bachchan did not get fame on a platter. He had to struggle tooth and nail to become one of the most promising actors in Bollywood.
Abhishek Bachchan was born on 5th February 1976. The scion of the talented Amitabh Bachchan and Jaya Bachchan , Abhishek has acting in his genes.
Abhishek knew it from the very beginning that he has to make it big in cinema just like his father and mother. That's why before completing his business degree in Boston University, he chose to come back to India and start his career in movies.
He made his acting debut in the year 2000 with J.P Dutta's Refugee which was a great launch pad for him. But the film didn't turn out to be a box-office success. Abhishek kept on signing new projects, but none of them proved to be a big hit.
After a string of flops, Abhi was dubbed a "dark horse" by his detractors.
Even on the personal front, Abhishek's luck didn't favour him. His engagement with well-known Bollywood actress Karisma Kapoor broke in 2002.
Success knocked on Abhi's door with Mani Ratnam's Yuva in 2004, for which he got best supporting actor award. Since then, there has been no looking back for him. He has proved himself as a bankable actor.
Right now, Abhishek is working in many projects like 'Delhi 6', 'Jhoom Barabar Jhoom', 'Drona', 'Shootout at Lokhandwala', 'Sarkar 2' and 'Guru'.
Not only is he one of the sought-after stars in Bollywood, Abhishek has also been named as Asia's Sexiest Male of year 2006 by a British tabloid. The most eligible bachelor of Bollywood, Abhishek Bachchan is today living up to the credentials of the distinguished Bachchan family.
Abhishek Bachchan Trivia
Didn't finish studying business in the United States since he wanted to become an actor. His father, Amitabh Bachchan, supported Abhishek's decision.
Son of Amitabh Bachchan and Jaya Bhaduri. Grandson of Harivansh Rai Bachchan.
Engaged to Karisma Kapoor [2002]
Was engaged to Karisma Kapoor before the engagement was mutually broken off without any explanations by both parties.
Became a Mama (maternal uncle) in 1997, when his married sister, Shweta Nanda, gave birth to a baby girl.
Has a niece called Navya Naveli and a nephew called Agastye born to his sister Shweta Nanda.
Officially engaged to Bollywood Actress, Aishwarya Rai, on Sunday January 14, 2007, at the Bachchan residence near Juhu. The wedding has not been finalized, but is expected to be sometime during 2007.
Abhishek Bachchan Filmography
Dhoom 3 Friday 21st of December 2012
Bol Bachchan Friday 6th of July 2012
Players Friday 6th of January 2012
Dum Maaro Dum Friday 22nd of April 2011
Game Friday 1st of April 2011
F.A.L.T.U Friday 1st of April 2011