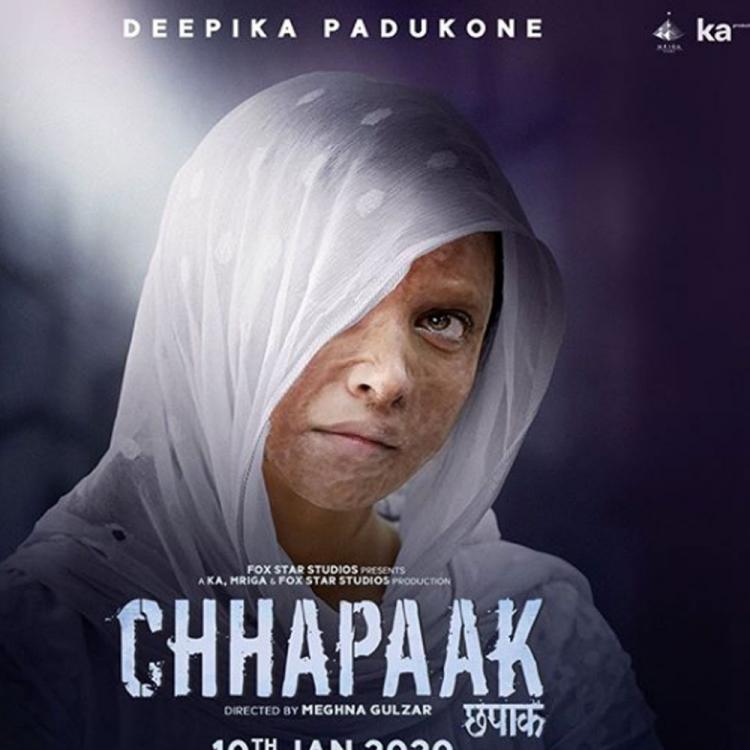 Movie: Chhapaak
Star Cast: Deepika Padukone, Vikrant Massey, Madhurjeet Sarghi, Devdas Dixit, Rohit Sukhwami
Directed by: Meghna Gulzar
Release Date: 10th January 2020
Running Time: 120 Minutes
Deepika Padukone has described Chhapaak as her most special film. Chhapaak, which is releasing on 10 January 2020, inspired by the real-life story of acid attack survivor Laxmi Agarwal, is Deepika's first production venture in collaboration with the Fox Star Studios. Deepika was last seen in Padmaavat in 2018. In the movie Chhapaak, Deepika plays Malti, a character largely based on Laxmi Agarwal. In a recent interview, she has said that though the movie's narrative is driven by Laxmi's story, Chhapaak is in fact not a biopic.
About Laxmi Agarwal:
Laxmi Agarwal is India's best-known acid attack survivor who was left with a disfigured face in 2006 at the age of 15 when three men attacked her and threw acid on her face. Since then, she has advocated for banning the open sale of acid and implementing stricter rules and regulations to prevent such attacks.
Laxmi has now become a known face in the country due to her immense courage and fighting spirit. She is a TEDx and an international motivational speaker and has spoken several times about her ordeal in front of large audiences. Stop Sale Acid, founded by Laxmi, is a campaign that fights against acid-violence and the sale of acid. Laxmi was also awarded the International Women of Courage Award in 2014 by the then First Lady Michelle Obama and NDTV Person of the Year.
Story of Chhapaak:
Along with Deepika in the titular role, the film stars Vikrant Massey as Amol who is Deepika's romantic interest. He has been recently seen in the web series Mirzapur, Criminal Justice & Rise. The film depicts the attack on Laxmi and her struggle against the system in getting justice. The trailer for the film portrays Laxmi's fight in courtrooms seeking justice for the acid-attacked survivors. It also shows Laxmi's romantic angle with Vikrant Massey's journalist character Alok.
One look at the trailer is sure to leave you spellbound as the story is highly captivating and Deepika's acting is nothing short of impeccable. It shows the deep emotions of the acid-attacked survivor during and after this horrifying incident of her life and how she struggles each day to accept her new self and seek justice for herself. The film is a depiction of the undeniable strength and courage of this girl. It is not just about Laxmi's life but any acid-attacked survivor who has had a similar experience.
What the Actors said:
Speaking about her experience during the movie, Deepika recently tweeted "Rarely do you come across a story where you don't need an entire narration to decide if you want to be part of a film or not. What is even rarer is not be able to articulate and put into towards what you feel for the film and its journey."
Appreciating Deepika's work, Co-actor Vikrant said that Deepika immerses herself completely into the character that she portrays on screen, which sometimes takes a toll on her. He also said that the character of Malti is one of the most special roles for her which has impacted her life. While Deepika's acting has never left the audience disappointed, actor Vikrant has also worked hard on his acting skills over the past few years.
Direction and Music:
Meghna Gulzar, who is known for her critically acclaimed Talvar and Raazi, is at the helm of the directorial duties for Chhapaak. Interestingly, her last directorial Raazi, starring Alia Bhatt,  won the coveted Filmfare Award for Best Film 2019.
The music and soundtrack for Chhapaak have been composed by music director trio Shankar-Ehsan-Loy while the lyrics have been penned by veteran Gulzar. Recently, the title track of the Chhapaak sung by Arijit Singh was released and has been widely heard. It has already amassed more than 7 million views on YouTube.
Film Promotions:
The promotions for Chhapak are in full swing. The first look of the film was released on 25 March last year and it instantly garnered a lot of interest owing to the glamourous Deepika playing a disfigured character. The trailer was launched on 10 December (World Human Rights Day) in Mumbai where the Producer and the Lead Actor Deepika could not hold back her tears.
Film receives 'U' Certificate:
The Central Board of Film Certification (CBFC) has been given a 'U' Certificate and people of all ages would be able to enjoy Chhapaak when it releases on 10 January 2020. The film is expected to clash with Ajay Devgn starrer 'Tanhaji' The Unsung Warrior, which is also releasing on the same day.
Deepika praises SRK for his initiative:
Deepika had recently praised Shah Rukh Khan's initiative with the Meer Foundation for the rehabilitation of acid attack survivors. The foundation works to support Acid Attack survivors including training for vocation and livelihood of the survivors.
Controversy surrounding the film:
As per some sources, the release of the film is not free from controversy as writer Rakesh Bharti held a press conference claiming that the film was his idea and he has been working on it since 2014. He has claimed that he has a document from 2015 showing that Laxmi had given her consent to proceed with the project. He has also filed a Petition before the Bombay High Court seeking a stay on film's release. The Petition is coming up for hearing on January 7.
Upcoming Movies of Deepika
Deepika will also be seen in her upcoming movies like "83" where she plays the character of Romi, wife of the legendary cricketer Kapil Dev. The movie is expected to be released on 10 April 2020. Also, Deepika is going to be a part of the biopic of the late poet Sahir Ladhianvi where she will play the role of his romantic interest Amrita Pritam. Besides, she will be seen in a Tamil movie 'Rana' playing a lead role opposite Megastar Rajnikanth.