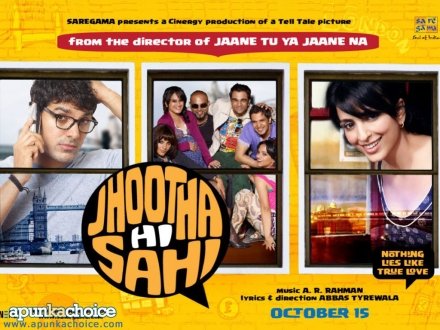 The Jaane Tu Ya Jaane Na team of Abbas Tyrewala and musician A R Rahman have got it right with Jhootha Hi Sahi. Though the music album doesn't feature a high octane foot-tapping song like Pappu Can't Dance Sala, it has Cry Cry which has clicked with the masses instantly. Let's check out what the other songs have to offer.
Generally it happens that Rahman's compositions take time to grow on you. With Jhootha Hi Sahi tracks, it isn't so. One takes an immediate liking to the songs.
Call Me Dil is one of the simplest compositions by Rahman and the song sticks to our heads and hearts because of its slow, enticing music. Can play it in the repeat mode!
Never did the talk of rona dhona sound so melodious. Cry Cry or Fly Fly grips us with its simple tune and Rashid Ali's fresh and lilting voice. Here we've got the winner in the album which will continue to rock the charts. Aren't you levitating after listening to it?
The unchained melody continues in the album. The next song is a bit sad but Sonu Nigam's passionate singing makes Do Nishaaniyan a must hear. The soothing heart-break song will have a balmy effect on you. Don't doubt! The reprise version is situational and since you loved the original, this one will also not disappoint you.
Hello Hello! croons Karthik in a frisky, carefree voice. As the telephone is also a character in the film, the song does tring tring your heart with its mellow tune. The moon is full and I'll be Waiting sings the newcomer Vijay Yesudas. The song is short and leaves one asking for more.
The Maiyya Yashoda song lifts the album with its perky feel. Javed Ali and Chinamayee belt out the Krishna leela in Rahman style. This one is Thames Mix, while the other one is Jamuna Mix. Both the songs can easily slip in your playlist.
With the Rahman signature comes the song Pam Para. About this song, less said, the better. As Shreya Ghosal evidently enjoys singing this song, so we enjoyed hearing it.
Away from the regular hip hop, disc beats or Bollywood masala songs, Rahman has tried to come up with simple tracks. The music is slow, and beats are ear-friendly. Overall, a pleasing experience with no dramatic tracks. Feeling light, feeling delighted!
Rating – 3 stars out of 5