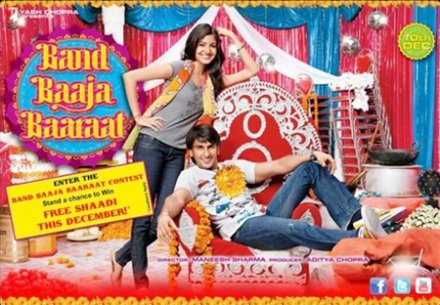 It didn't take much time for the award-winning background music composers Salim-Sulaiman to grab the limelight, and their work doesn't go unnoticed because the duo delivers quality music. Their collaboration with Yash Raj Films always bears fruit. Now, the duo has come up with Band Baaja Baaraat that stars Anushka Sharma and newcomer Ranveer Singh.
Moving straight to the album, it has seven originals and two remixes. Lyrics are by Amitabh Bhattacharya. Here we go:
Talking about the first track Ainvayi Ainvayi, the song stands a great chance to be this season's well-played number. It is doubtlessly the best offering considering the movie's theme and the current wedding season. The Ainvayi Ainvayi Dilli Club Remix is a peppy number; enjoy it in full volume. Jacking up the dhols in Punjabi style pays off. Right!
Mixing a bit of pop with rock music, Salim Sulaiman come up with Tarkeebein. A situational track about motivations to perform well in life, it is rendered by the talented Benny Dayal and Salim Merchant. The song is a middling number and will take time to get registered in your mind.
When it comes to melodious tracks, Salim Sulaiman like to keep it simple, and that's why Aadha Ishq with its heartfelt lyrics and mellifluous music grows on you.Aadha Ishq, Aadha Ho Jaega.
Next is Dum Dum with punch and pomp but the song falls flat. However, its Sufi remix sounds impressive because of its fast-paced music; also Sukhwinder Singh and Sunidhi Chauhan's terrific singing makes it sound better than the original.
Mitra is somber in mood, but not subdued in its approach. Due to Amitabh Bhattacharya's spirited vocals the song sounds straight from a college campus. This famous Punjabi shaadi track is a surefire hit. The Band Baaja Baaraat's Baari Barsi number is no different, with a slight change in lyrics this will work with the masses, especially when the track comes alive on screen with great picturisation. Dancing pairs, and the jubilant time of wedding, aaja nach le ve!
Last comes the theme track, which is about Band Baaja Baaraat. We've already got the peppy feel of the song in the promos, the full track is high on entertainment. What else does one want this wedding season!
The tracks are composed strictly keeping in mind the theme of the movie, and that's the best part. No fillers or item songs are used to complete the album. But there is only one song which will help the film to sail through the crucial publicity time, and that's Ainvayi Ainvayi. The song is already a chartbuster but that phenomenon is not expected from any other track. Aadha Ishq will also find it takers.
The album has its moments. Not a total disappointment!