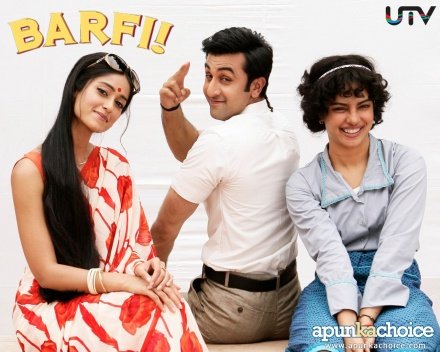 India's official Oscar entry Barfi! which had come under the allegations of plagiarism back home, is out of the race for the coveted award.
Director Anurag Basu's Barfi! has failed to qualify for the best foreign language film category for the 85th Academy Awards, according to the latest Oscar shortlist.
The film, featuring Ranbir Kapoor as a deaf and mute boy and Priyanka Chopra as an autistic girl, earned rave reviews and enjoyed box office success.
Of the 71 films that qualified for the Oscars from across the world, nine have been shortlisted, which will further compete to make it to the final five nominations.
The nine selected films are "Amour" (Austria), "War Witch", (Canada), "No" (Chile), "A Royal Affair" (Denmark), "The Intouchables" (France), "The Deep" (Iceland), "Kon-Tiki" ("Norway), "Beyond the Hills" (Romania) and "Sister" (Switzerland).
The final list will be announced Jan 10.