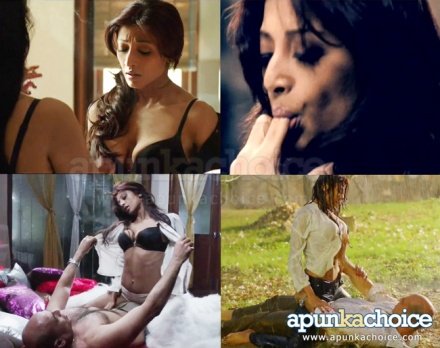 Sensational girl!
She can be easily tagged as the hottest actress Bollywood has seen in ages. Bengali actress Paoli Dam is soon going to make her debut with the erotic thriller Hate Story. This woman-oriented film is a tale of vengeance and Paoli plays a woman who uses sexuality as her weapon.
The bold poster was not enough; the makers have now released the shocking three-minute-long uncensored first trailer of the film. Produced by Vikram Bhatt, the movie's first trailer clearly shows why the movie is called the first of its kind erotic thriller.
Paoli Dam's unabashed sexuality is not just limited to the bedroom it goes far and beyond. The actress is shown as a call girl in the second part of the trailer which is spattered with steamy scenes and orgasmic screams.
For starters, the bongshell Paoli Dam is neither new to acting, nor a rookie to these kind of racy sequences. She was at the receiving end of flak for her frontal nude scenes in the film Chatrak (Mushroom) which released last year.
The uncensored first trailer of the film Hate Story is seriously too hot and bold to handle, while many are of the view that the trailer is scandalous. However, there are others who have welcomed it saying that these kinds of woman-centric films, inspired from Hollywood films like Poison Ivy and Scorned, should be made in Bollywood.
The movie also stars Nikhil Dwivedi and Gulshan Devaiah in pivotal roles. Directed by Vivek Agnihotri, Hate Story is going to hit the theatres on April 20.