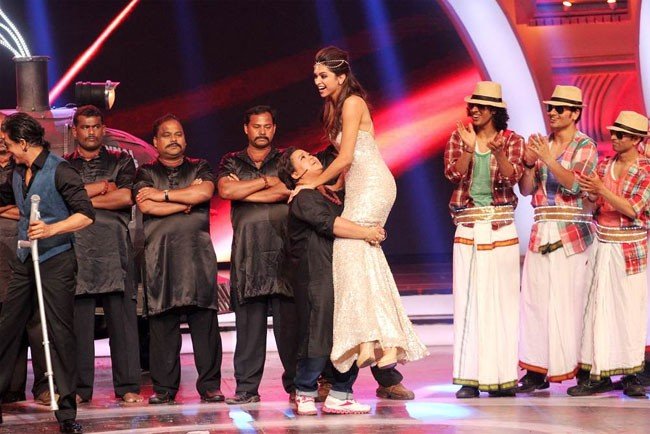 Bharti lifts Deepika
TV comedienne Bharti swept actress Deepika Padukone off her feet at the Lux Cozi Zee Cine Awards 2014. Check out the stills.
The roly-poly Bharti, who doesn't just do the splits like a gymnast but also leaves her audience in splits with her humour, was a riot at the Zee Cine Awards held earlier this month but to be aired on Feb 23.
While presenting the Best Film nominations, Bharti spoofed the 'Mandir Ki Seediyan' sequence from Chennai Express where Shahrukh Khan carried Deepika Padukone in his arms all the way up the stairs to the temple on a hill. Spoofing the scene, Bharti lifted Deepika in her arms and carried her from her seat on to the stage.
PHOTOS: Deepika Padukone, Ranveer Singh's stellar performance at Zee Cine Awards 2014
The crowd cheered the duo and though Deepika looked a touch embarrassed, she took Bharti's macho act rather sportily.
Shahrukh Khan too was on the stage.
The stills of Bharti's daring shtick have been released by ZeeNews.
Zee Cine Awards 2014 will be aired on Zee TV on Sunday, 8pm.