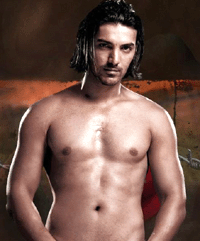 His sculpted beefcake, well-chiseled face and his dimpled smile make John Abraham an object of fantasy for girls (and even guys). No wonder, he's voted world's sexiest Asian in a poll.
In the annual round conducted by Eastern Eye, a leading British Asian weekly, Abraham emerged the top in a shortlist of 10 sexiest Asian men in the world in 2008.
The weekly sent judges a shortlist of 10 names. The judges then ranked the names according to their individual preferences and the newspaper then compiled the results to produce a final list.
"John Abraham made up for a quiet year with a sensational look in Dostana , with one of the greatest physiques ever seen on the big screen. His body helped to make the film a hit with Asian women," Hamant Verma, editor of Eastern Eye, said.
The judges included Brianna Ragel, editor of Asian Woman Magazine, Che Kurrien, editor of GQ India and the former editor of FHM India, Farhad Dadyburjor.
John has replaced last year's winner Shahrukh Khan who stands at third place this year. Incidentally, John was third last year. Hrithik Roshan is in second place this year.
Newcomers to the 2008 list include TV presenter Rav Wilding (20) and actors Harman Baweja (22) and Stephen Uppal (21).
Britons on this year's list include Upen Patel (five), Jay Sean (nine) and boxer Amir Khan (ten).
The top ten sexiest male list goes thus:
John Abraham
Hrithik Roshan
Shah Rukh Khan
Ali Zafar
Upen Patel
Ranbir Kapoor
Saif Ali Khan
Imran Khan Jay Sean
Amir Khan (boxer)