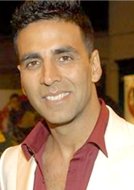 Akshay Kumar Biography
Akshay Kumar, the handsome man out of nowhere suddenly entered Bollywood's film industry. He studied martial arts in Hong Kong. It was a student that suggested that he try modelling. Because of his success as model, he was offered films. Along with his good looks and excellent martial art skills, Akshay was always the first choice to do adventurous movies. He did his own death defying stunts.
Akshay Kumar's breakthrough performance was in Saugandh (1991). He was well known for his Khiladi series, an Indian version of James Bond, such as _Mr.Bond (1992)_ , Khiladi (1992), Main Khiladi Tu Anari (1994), Mr. & Mrs. Khiladi (1997) and Khiladi 420 (2000).
Akshay Kumar has been romantically linked with several of his co-stars including Raveena Tandon, Shilpa Shetty, Pooja Batra and Rekha. But his marriage to Twinkle Khanna, his two time love lady changed his playboy attitudes.
Akshay Kumar Trivia
Studied martial arts in Hong Kong before becoming an actor.
Dated most of his co-stars including Pooja Batra, Raveena Tandon and Rekha (before his marriage to Twinkle Khanna).
Was a martial arts teacher. One of his students suggested he model and he was soon offered films after his success as a model.
Dated Shilpa Shetty twice before his marriage to Twinkle Khanna.
Has a son with wife Twinkle Khanna named Araav born 15th September 2002. Became an uncle when sister-in-law Rinke Saran gave birth to a baby girl on 19 October 2004.
Won Best Villain award for 'Ajnabee (2001)' as it was his first ever award since his career started in 1991.
He is the son-in-law of Bollywood mega-star, Rajesh Khanna and actress, Dimple Kapadia, as well as the brother-in-law of actress Rinke Khanna.
Akshay Kumar Filmography
Tees Maar Khan Dec 24 2010
Action Replay Apr 9 2010
Patiala House Mar 19 2010
De Dana Dan Nov 27 2009
Blue Oct 16 2009
Kambakkht Ishq Jul 3 2009