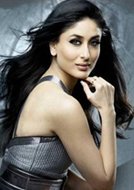 Kareena Kapoor Biography
Kareena Kapoor was born to Sindhi-speaking Babita (nee Shivdasani) and Punjabi-speaking Randhir Kapoor on September 21, 1977 in Bombay, India. She has an elder sister, Karisma Kapoor. Kareena is born in a family that have been actors for generations, including her paternal great-grandfather, Prithviraj Kapoor; her grandfather, Raj Kapoor; her paternal uncles, Shammi, Shashi, Rishi, and Rajiv; as well as aunt, Neetu Singh, & Jennifer Kendall, the wives of Rishi and Shashi respectively. On her maternal side, her grandfather, Hari Shivdasani, and aunt, Sadhana, have been actors in their own rights.
As a child, Kareena Kapoor studied in Jamnabai Narsee School in Juhu, Bombay, and thereafter was enrolled in Dehra Dun's prestigious Welham Girls' Boarding School. Her dad, Randhir is very protective towards his daughters and wanted both of them to keep away from acting, get married, and settle down, as per the Kapoor family tradition. This led to irreconcilable differences between her parents, ultimately leading to a divorce, with both sisters leaving their dad to live with their mom.
Kareena Kapoor film debut was in the year 2000 with 'Refugee' along with the debut of Amitabh Bachchan's son, AbhishekBachchan. She went on to appear in many more Hindi movies, and has thus far won four awards for her performances in 'Refugee', 'Chameli', 'Dev', and 'Omkara'. Kareena is today one of the most sought-after actresses in Bollywood.
Kareena Kapoor won her first Filmfare Best Actress Award in the year 2008 for the film 'Jab We Met'. She dated actor Shahid Kapur for three years but had a break up. Currently actress is seeing actor Saif Ali Khan.
Kareena Kapoor Trivia
Younger sister of Karisma Kapoor
Granddaughter of Raj Kapoor, great-granddaughter of Prithviraj Kapoor and great-great-granddaughter of Dewan Basheswarnath Kapoor
She is the second daughter of actress Babita Kapoor, and actor Randhir Kapoor. They have broken the taboo of Kapoor family girls acting in movies.
Loves horseback riding and cooking
Turned down a role in _Bride and Prejudice (2004)_ .
Did not attend her cousin's (Riddhima Kapoor) wedding with Bharat Sawhney that took place in Bombay on Wednesday January 25, 2006. Also absent was her sister, Karisma, and mom, Babita.
Her great grandfather (Prithviraj Kapoor), her grandfather (Raj Kapoor) and his two brothers (Shammi & Shashi), her mother (Babita), her father (Randhir) and his two brothers (Rishi & Rajiv) have all been film stars over the last fifty years and her sister (Karisma) have been acting in Bollywood flicks keeping it all within the family.
Listed as number 6 of 'Top Bollywood Actresses' of 2006. (rediff.com, 8-25- 2006)
She is best friends with fellow actress Amrita Arora.
She befriended Konkona Sen Sharma on the sets of 2006 movie Omkara.
Good friends with actress Esha Deol.
Kareena Kapoor Filmography
Milenge Milenge Apr 2 2010
3 Idiots Dec 25 2009
Kurbaan Nov 20 2009
Main Aur Mrs Khanna Oct 16 2009
Kambakkht Ishq Jul 3 2009
Billu Barber Feb 13 2009