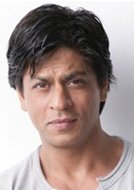 Shahrukh Khan Biography
Shahrukh Khan is the King Khan of Bollywood. Shahrukh Khan was born on November 2, 1965. Shah Rukh began his career appearing in television. Today, Shahrukh is one of the most sought after actors in Bollywood, has numerous best actor awards, and has branched out into film production and television presenting as well. Khan's, Red Chillies Entertainment is also the owner of IPL Cricket team Kolkata Knight Riders.
The year is 1991. First-time director Hema Malini looks anxious on the sets of her directorial debut, 'Dil Aashna Hai'. The cause of her anxiety triggers laughter as it is discovered that the lady, despite employing all haircut methods on her boyish-looking hero Shahrukh Khan, remains unsuccessful with his unruly mop. Hema finally lets go of the boy and his effervescent hair without a crop.
The film bungled at the box office. Was it due to Shah Rukh Khan's boisterous hair?
Today, in retrospect, it looks like it was his disheveled hair, big nose, average height and average looks that broke conventions to give birth to a new-age star.
Sharukh's USP were his energy, fizz and 'dreamz unlimited'. The boy just refuses to sit idle. Says Juhi co-star and friend: "Shahrukh went on even when others stopped due to exhaustion. He breathes films. He is down-to-earth, without an attitude. He is very friendly and has a funny sense of humor".
When Colonel Kapoor signed SRK for his serial on faujis, he knew the potential of the bubbly youth but the amazing career he would charter wasn't probably envisaged.
After Fauji, a couple of more television serials and Shahrukh joined the big league and gave a smashing hit Deewana with the late Divya Bharati. As compared to the superstars of yesteryears, Shahrukh's ride up the ladder was tougher. He had to face the rage of explosion of information and technology while working towards super-stardom. He was required to possess charisma compelling enough to make people rise above the zillion modes of entertainment and be his audience. Shahrukh managed to captivate and the feat, by no means, was easy.
Khan's films such as Dilwale Dulhaniya Le Jayenge (1995), Kuch Kuch Hota Hai (1998), Chak De India (2007), Om Shanti Om (2007) and Rab Ne Bana Di Jodi (2008) remain some of Bollywood's biggest hits, while films like Kabhi Khushi Kabhie Gham (2001), Kal Ho Naa Ho (2003), Veer-Zaara (2004) and Kabhi Alvida Naa Kehna (2006) have been top-grossing Indian productions in the overseas markets, making him one of the most successful actors of India.
For every loss there is a new hope. Shahrukh is too full of zest to be defeated and live quietly. He will explore other avenues in films even if he ceases to be a superstar. He will continue to be there.
Shahrukh Khan Trivia
Studied in St. Columba's school, New Delhi, where he was awarded the 'Sword of Honor', essentially the award for best student.
Although his birth name is spelled Shahrukh, he prefers and signs his name Shah Rukh.
Hindi megastar
Number one Indian star actor in the 1990s, but is now (2000) seriously challenged by the new wonder boy Hrithik Roshan who has become the number one phenomenon in India at the start of the new millenium.
Father of Aryan Khan.
2 children with Gauri, Aryan and Suhana
He agreed to star in Aditya Chopra's films without looking at the script first.
One of the three Khans that ruled Bollywood in the 90s till now (2005). The other two are Aamir Khan and Salman Khan.
Formed a popular screen couple with Kajol
Runs a production company "Dreamz Unlimited" with actress, friend, co-star Juhi Chawla and director, friend Aziz Mirza.
Married to Gauri Khan
Named one of Time Magazine's 20 Asian Heroes under 40 (2004)
His son, Aryan Khan, portrayed SRK as an infant in Kabhi Khushi Kabhie Gham… (2001).
Son, Aryan Khan, voice of Tez Lajawaab (Dash), character for Hindi dubbed version of Disney's animated film, The Incredibles (Hum Hain Lajawaab).
Shah Rukh and his wife, Gauri Khan, own the production company "Red Chilies Entertainments", which Shah Rukh started for friend and colleague, director/choreographer Farah Khan, for her debut directorial film – Main Hoon Na (2004).
Born on exactly the same day as Samuel Le Bihan.
Purchased a villa on a man made island on the coast of Dubai in the United Arab Emirates.
#74 on E!'s 101 Hottest Celebrity Bodies Countdown (aired January 2006)
Was not very good at Hindi in school, until his mother promised to take him to the cinema if he passed. As he loved films,he got top marks from then on.
His father ran a transport company and his mother was a magistrate.
Gets along very well with former co-stars Juhi Chawla and Preity Zinta.
Loves computer games and hi-tech gadgets.
His first name "Shahrukh" means "face of the king".
Resides in a mansion called Mannat in Mumbai, India.
Being a Muslim man married to a Hindu woman, he and his wife combine both religious backgrounds into their children's education.
Shahrukh Khan Filmography
Don 2 Friday 23rd of December 2011
Ra.one Friday 19th of August 2011
Student Of The Year 2011
Shahrukh Bola Khoobsurat Hai Tu Friday 19th of November 2010
My Name Is Khan Friday 12th of February 2010
Dulha Mil Gaya Friday 8th of January 2010