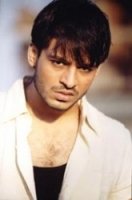 Vivek Oberoi was born on the 3rd of September,1976 and attended Mayo college in Ajmer. Vivek's big break came when noted filmmaker Ram Gopal Varma offered him a role in his gangster flick, Company (2002). Quite an unusual entrance for a debutant in Bollywood, because the norm for young actors is to play good lover boys till their place in Filmdom is secure. Not Vivek. Apparently, Ram Gopal Varma was having second thoughts about casting Vivek Oberoi in Company because he thought Vivek looked too cute for a gangster – and told him so. Vivek, not to be outdone, went to the slums of Mumbai and did his homework and a couple of weeks later barged into Varma's office dressed as Chandu the gangster, swung his feet up on the table, and landed the contract pronto. From there the road went uphill. Vivek's immaculate performance in Company – in which he starred opposite Bollywood Big Bad Boy Ajay Devgan, Miss Bolly Manisha Koirala and the granddaddy of Malayalam Cinema, Mohanlal – was more than enough to get the media singing Oberoi's praises. Next in line was the psycho-thriller Road (2002) (opposite Company co-star and co-newcomer Antara Mali), Dum (2003) (which sank without a trace – opposite Diya Mirza) and the next big catch, Saathiya (2002), opposite Rani Mukherjee.
Vivek Oberoi Trivia
Son of Bollywood Actor Suresh Oberoi.
Attended High School Mayo College (Ajmer).
Broke a leg while filming for a Mani Ratnam film and was hospitalised. He needed surgery, was in intensive care and his condition was quite serious for a couple of days. [July 2003]
He was recently awarded a Red and White bravery award for helping re-build a village which was hit severely by the Tsunami and adopted immediately by him.
Is the second of four children. He has an older brother, a younger brother and a younger sister (who is an artist).
He and his family have created the Yashodhara Oberoi Foundation to help those in need
Abstains from smoking, drinking and doesn't drink tea or coffee.
Has two boxers who are his like his children – Duke and Ivy
One of his nicknames is "Rockstar"
Turned down a part in _Guru (2006/I)_ .