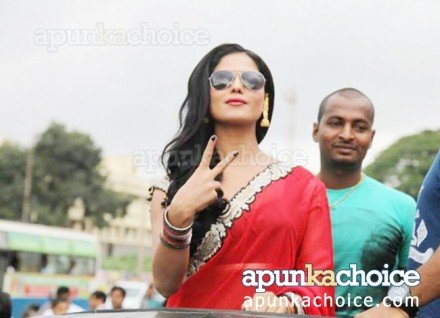 Veena Malik promotes 'Silk Sakkath Hot Maga'
Bollywood actress Veena Malik's most awaited Kannada movie Silk Sakkath hot has just hit the silver screens all over and is running successfully.
Veena Malik said, "Me and my co-star Akshay and the team of Silk Sakkath Hot just saw the film in Kapali theatre. I was very excited to see such a big crowd for the film. We all liked the film a lot. We are quite overwhelmed to see so many fans."
Veena plays the role of Vijaylakshmi in the film, while Akshay plays Shiva, a character with negative shades. The story revolves around a girl who enters the film industry due to family problems. But once she becomes a star, she has other issues to face. How she overcomes them forms the crux of the story.
Catch the pics on the following pages.
Veena Malik promotes 'Silk Sakkath Hot Maga' Photo Gallery / Stills / Images / pictures