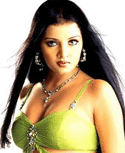 Close to hundred people gathered outside the studio where Celina Jaitley was shooting a hot number in skimpy clothes.
When Celina sheds her inhibitions, hangs her hair down and shoots for a sensuous number, it is but obvious for crowds to go frenzy. Something like this happened recently when she was shooting a hot song 'Afreen' for Vikram Bhatt's forthcoming movie Red .
The movie's producer, Sunil Chainani, had taken enough precautions before shooting the song. Firstly, near about 75 percent of the film's crew was made to leave the sets.
Secondly, the producer got as many as ten security guards on the premises. But as the song was really very sensuous, crowds began to swell and soon there were about hundred people outside hoping to catch a glimpse of Celina.
The actress, however, was feeling insecure. To avoid the crowd from bursting inside, she called in five of her own personal security guards also.
With so much security around the place, the song was eventually shot without any unsavory incident.
And those waiting to watch Celina do the hot song had to go back disappointed. Now they will have to content with watching the number in the movie only.