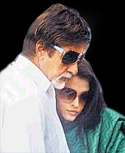 Superstar Amitabh Bachchan will be given France's highest civilian award in New Delhi on January 27.
The Big B will be coming to the capital city along with wife Jaya Bachchan , son Abhishek Bachchan and his fiancée Aishwarya Rai .
At the event, to be held at the French Embassy in the diplomatic area, Mr. Bachchan will be bestowed with the Officier de la Legion d'Honneur (Officer of the Legion of Honour).
The announcement of the award came last year on Mr. Bachchan's birthday on October 11. He is being honoured "for his contribution to Indian and international cultural life."
Amitabh Bachchan has lent his voice to the Oscar-winning French documentary 'The March Of the Penguins' (2005), directed by Luc Jacquet.
The documentary will be screened prior to the award ceremony at the French Embassy. To create a proper atmosphere, art designers are reported to be creating a replica of arctic region at the venue.
The high profile event will be attended by diplomats, politicians and officials representing the French govt.
It would also be the first public appearance of Abhishek and Aishwarya after their engagement early this month.