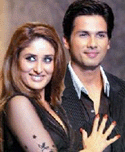 Real life lovers Kareena Kapoor and Shahid Kapur will translate their romantic chemistry on the big screen in a movie.
Although Kareena and Shahid have worked together in three films, none of them has showcased their chemistry so far. Their first film together, Fida , was a romantic movie but very bland and lacklustre. Chup Chup Ke brought forth a few sparks between them, but it was primarily a comedy flick. The same goes for 36 China Town , which was a murder mystery.
All this time, the two lovers have been biding their time, waiting for a right film, a right script that will pitch them as the next hot jodi on celluloid. The duo now claims to have found one such movie.
It will be a film to be directed by Imtiaz Ali, who made the sweet love story Socha Na Tha two years back.
When Imtiaz reportedly approached Kareena and Shahid for his next movie, the two actors gave their nod without hesitation because they were bowled over by the script.
The movie apparently will tell a love story between a Punjabi girl and a Mumbai guy. The story begins with a chance meeting between two strangers and develops into a kind of romantic adventure set in North India.
Kareena says it is the first time she and Shahid will act together in a full-fledged romantic drama.
Although both Kareena and Shahid had prior commitments, the two lovers are now giving precedence to Imtiaz Ali's movie.
The film's shooting will begin in mid-March in Patiala, Punjab.