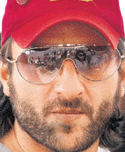 Saif Ali Khan and Kareena Kapoor had to face the frenzy of their fans while shooting the Yashraj Film Tashan in Laddakh.
Fans in North India are particularly known for going into ruptures at the sight of their favourite movie stars. Recently, it was Saif and Kareena who reportedly encountered mob frenzy while they were having lunch at a local restaurant in Laddakh.
Reports have it that the two stars were quietly enjoying their lunch when a huge crowd gathered outside to have a sneak peek at them.
Things heated up when Saif and Kareena's bodyguards prevented some fans from coming inside the restaurant. Angry words were exchanged and one of the bodyguards allegedly roughed up a fan.
Things began to get out of hand when the angry crowd began roughing up the two bodyguards. Saif tried to pacify the situation but the mob was not willing to listen to him. In fact, some hooligans in the crowd hurled abuses at Saif. The actor, in turn, got angry and gave a befitting reply.
The staff and the manager of the restaurant intervened and got the situation under control. However, Saif and Kareena's bodyguards had to be given medical aid for minor injuries.
After this incident, the movie's stars became very cautious about their outings in the locality.
'Tashan' is being directed by Vijay Krishna Acharya. The movie also stars Akshay Kumar and Anil Kapoor .