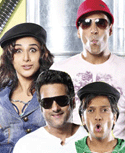 After showing glimpses of his directorial skills in an episode of Darza Zaroori Hai, Sajid Khan returns with his first full-length feature film Heyy Babyy The movie is not an out-and-out comedy. It has many emotional moments as well.
Sajid Khan has attempted to make a wholesome entertainer by blending comedy with drama and sprinkling some 'hot stuff' on top of it to please the young audience. Sajid follows a simple formula – to have at least one interesting sequence in every reel. Most of these sequences do manage to keep your interest kindled, but some of them do fall flat.
'Heyy Babyy' is not a copy of the Hollywood movie 'Three Men And A Baby'. The similarities between the two movies are superficial. 'Heyy Babyy' has a very Indian brand of humour and drama. And Sajid treats his subject with simplicity without blowing either comedy or drama out of proportions.
The movie tells the story of three bachelors – Arush ( Akshay Kumar ), Ali ( Fardeen Khan ) and Tanmay ( Ritesh Deshmukh ). All three of them are confirmed flirts who sleep around with girls without the slightest intention of committing to a relationship.
But then the course of their lives is changed with the coming of a little baby. At first, the incurable flirts get on with their lives as usual. But a small tragedy opens up their eyes. Afterward, they transform into father figures for the baby, who becomes the focal point of their lives.
'Heyy Babyy' starts off very well but begins to lose steam mid-way. Thankfully, Akshay Kumar shows his incredible comic flair once again and invokes genuine laughs from the audience. The movie has many hilarious scenes but the ones featuring Akshay turn out to be the best.
Along with humour, Sajid Khan maintains a continuous thread of drama in the plot. Several scenes involving the baby will leave you with moist eyes. However, some tend to get a little melodramatic.
The movie's strength lies in its storyline and appropriate casting of actors in their respective roles. On top of it cinematographer Himman Dhamija captures the beauty of Sydney well enough. The music by Shankar Ehsaan Loy is groovy but not exceptional.
Among performances, Akshay stands out among the trio. His comic timing is becoming impeccable by the day and his scenes with Vidya Balan are simply a delight to watch.
Fardeen Khan gets his funny lines right and Ritesh Deshmukh is brilliant as usual. But one does get the feeling that Ritesh has not been used up to his potential. Vidya Balan looks absolutely gorgeous. However, her role doesn't have much scope for histrionics. The little baby Juhaina is cute and loveable. Boman Irani is impressive as usual.
On the whole, 'Heyy Babyy' packs in enough masala and emotion to keep you entertained throughout its running time. The title song with 15 Bollywood hotties and cameos of Shah Rukh Khan and Anupam Kher add an extra zing to the movie. Interestingly, SRK's cameo is intelligently conceived by Sajid.
An entertaining watch.
Rating: ***