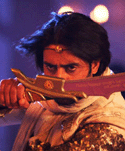 If Abhishek Bachchan had his way, he would want a film to be made in which Drona and Krrish meet.
Finally, the D-day has arrived for Drona , the much-touted special effects treat with a smattering of mythology and martial arts – thanks to Priyanka Chopra displaying her skills at Gatka, a special fighting form from Punjab. The film, directed by Goldie Behl boasts of as many as 1500 special effects, some of which include Abhishek's gravity defying stunts or sand-storms assuming the shape of a face a la 'The Mummy'.
Abhishek says he was captivated by the movie's subject the first time Goldie narrated it to him. Apart from acting in the movie, Abhishek kept chipping in his suggestions throughout the making of 'Drona'. For instance, Goldie had initially wanted Priyanka to play Abhi's love interest only. But Abhi thought she should also play Drona's bodyguard in the film because the character of her father was a bodyguard of Drona's father. It was a simple case of duties passing down the generations. Goldie liked the idea and changed Priyanka's role accordingly.
Both Abhi and Priyanka had to undergo rigorous physical training for their respective roles. In the film, Abhishek plays a man born to a clan of legendary warriors who were entrusted the duty to protect a very important secret. Kay Kay Menon plays an evil magician who wants to possess that secret. Priyanka plays a warrior who helps Drona realize his identity and helps him in his mission.
Though Abhishek denies that he plays a superhero in the film, he does admit that his character does many supernormal things. And apart from wishing to work in the 'Drona' sequel (which has been planned even before the film's release) Abhishek also wants Drona to meet Krrish in some film. The character was a superhero played by Hrithik Roshan in his dad's movie Krrish .
"It would be great to have the two of them together in a film. I'm sure the fans would love it," Abhishek says.
Well, we'll take a call after watching 'Drona'.