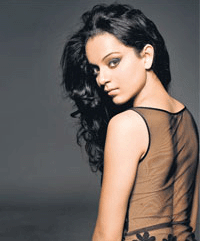 A mega budget supernatural thriller from the Bhatt camp, Raaz – The Mystery Continues explores the evil within the human psyche.
The movie's not exactly a sequel to Raaz but a fresh story directed by Mohit Suri . The promos of the film and its posters are splashed with dark green colour to give it the look of a spooky film.
'Raaz – The Mystery Continues' deals with the evil side of human psyche. Mohit Suri got inspired from Indian mythology, where good and evil are interwoven in human nature. He mentioned saint Kabir, who has said that greatest evils are inside us. 'Raaz -TMC' is based on that concept.
Mohit, who has directed five films till now for Vishesh Films, had a tough time persuading the Bhatts about the concept.
Bhatts and Mohit also had a disagreement regarding the promos of the film. Mahesh Bhatt wanted dialogues in the promos, whereas Mohit just wanted thrilling visuals and haunting musical score, which, according to him, would have made a better impact.
With the screening of Fashion , the 10-seconds trailer of 'Raaz -TMC' was shown. And everybody was left awestruck with the trailer. Kangana Ranaut again plays a supermodel in this film with Emraan Hashmi and Adhyayan as supporting cast.
This year has been good for horror flicks, with movies like Phoonk and 1920 doing well and setting a trend for horror films in Bollywood.
The promos and posters of 'Raaz-TMC' have already created enough buzz and sensation. The movie is slated for January 23 release and is in post production stages now.