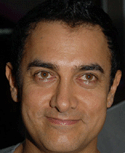 To all those who have been calling director A Murugadoss's movie 'Ghajini' a remake of 'Memento', Aamir Khan says the movie is just inspired from the Hollywood flick and is not a copy or remake of it.
Aamir has begun interacting with his fans and admirers directly through bloging on http://www.lagaandvd.com.
In his latest blog Aamir writes about working with director Murugadoss in his Hindi remake of 'Ghajini', which stars Aamir in the lead role. And in his column, Aamir has tried to clarify the commonly held belief that Ghajini is a remake of Christopher Nolan's Academy Award winning art film 'Memento' (2000).
Aamir writes: "Murugadoss had heard about a film called 'Memento' and the concept had really fascinated him. Without having seen the film he went ahead and wrote his own version of the script and screenplay. Having finished his script he then saw 'Memento', found it very different from what he had written, and went ahead and made 'Ghajini'."
Aamir says when he saw 'Ghajini' he was impressed by the film, even though he did not like the last thirty minutes of it. Then Aamir saw 'Memento' and he found that the two films were very different. Murugadoss had written an original screenplay.
Aamir writes: "I had not seen 'Memento' myself until then and was very curious to see it. On seeing it I thanked my stars that he (Murugadoss) had not seen 'Memento' before having written his script. I preferred 'Ghajini' any day. 'Memento' I just couldn't understand. For those of you who have asked me why I don't have any problems doing a remake of a Hollywood film, it's NOT a remake. Watch both films and see for yourself."
Aamir added that 'Ghajini' in his opinion is a case of 'inspired from', and nothing beyond that.
The Hindi version of 'Ghajini' is currently on the floors. Its Hindi title has still not been decided. The film has Asin and Jiah Khan opposite Aamir. The film's shooting is likely to continue till the end of this year.
What is 'Memento' about?
Starring Guy Pearce, Carrie-Ann Moss in lead roles, 'Memento' tells the story of a man named Leonard who is searching for the killer of his wife. The problem is that he suffers from amnesia, which he contracted in a head injury during the attack that killed his wife. With his limited memory Leonard zeroes down on his wife's killer by keeping notes, taking photographs and making tattoos on his body to remember things.