10ml Love Reviews
Movie Review : '10ml Love' – refreshing potion of entertainment (2.5/5)
10ml Love movie review; Cast: Rajat Kapoor, Tisca Chopra, Purab Kohli, Tara Sharma, Koel Purie and Neil Bhoopalam; Director: Sharat Katariya; Rating: **1/2 …
Movie Review: '10ml Love' is refreshingly entertaining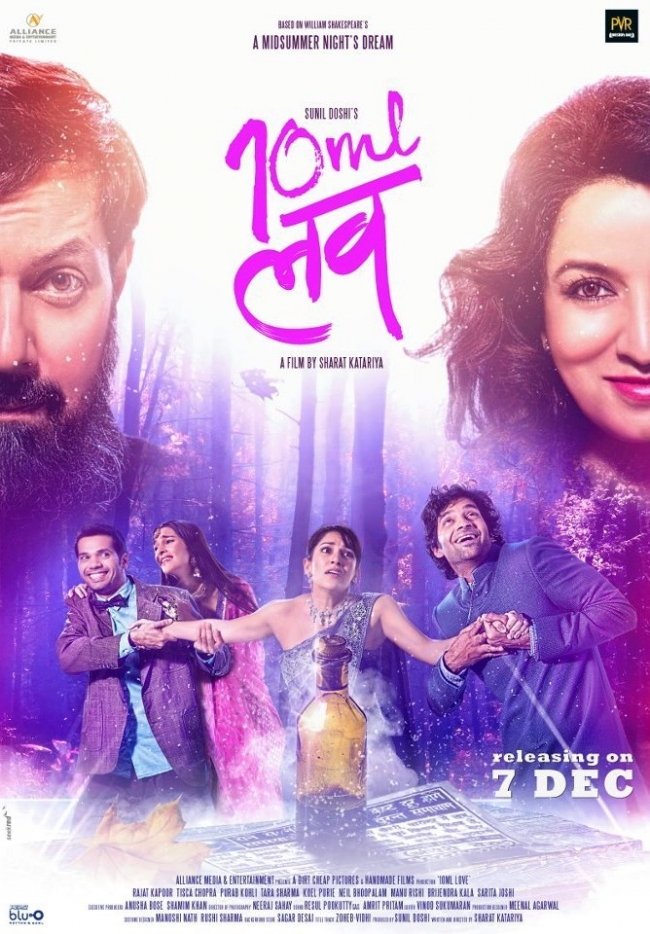 10ml Love movie review; Cast: Rajat Kapoor, Tisca Chopra, Purab Kohli, Tara Sharma, Koel Purie and Neil Bhoopalam; Director: Sharat Katariya; Rating: **1/2
10ml Love is writer-director Sharat Katariya's take on Shakespeare's "A Midsummer Night's Dream". It is a well-adapted and simple contemporary story set in an Indian milieu.
The film opens with a bunch of Ramlila artistes rehearsing for a show, and slowly merges into the world of the three main couples in the story. The lives of the three couples are smoothly interlocked and connected by the celebrations of Shweta (Tara Sharma) and Neel's (Purab Kohli) impending wedding, pretty much as in Shakespeare's play.
Ghalib's (Rajat Kapoor) Ammijaan (Sarita Joshi) hands over a 10 ml magical potion – 'Josh-e-Jawani' – to her son to help him woo and win back his wife Roshni (Tisca Chopra). The potion creates havoc in the lives of the three couples for one night. The 10 ml love potion sorts out their lives, enabling each one to get back to the real love of their lives, albeit after a night of complexities and confusion.
Neil Bhooplam as Peter Periera, a conscientious, god-fearing Christian, who leaves everything to God, is the show stealer with his superb performance. Koel Purie as Mini, the girl who madly loves Neel, essays her character with panache. Especially commendable are her expressions, fraught with surprise and frustration, in the climax scene, where both men are chasing her.
Tisca Chopra as the suppressed Muslim wife is convincing. Rajat Kapoor, as her suspicious shauhar, who is a quack hakim selling home-made remedies gives a splendidly restrained performance. Tara Sharma looks pretty, but is her usual screechy-self. The Punjabi relatives at the wedding are an entertaining trio, so typical of ladies at such weddings. Manu Rishi Chaddha deserves kudos as the man marooned in a boat after an incredible nocturnal escapade with an unknown lady.
Sharat Katariya's story is well-crafted and delivers several punches. The ensemble cast, mainly from theatre, packs great entertainment, each one rendering a superb performance. A rare combination of a good script based on an adaptation, with realistic performances.
The music and background score by Sagar Desai is intriguingly pleasant. Neeraj Sahay's cinematography though simple, stands out in the climax, where the characters enter a dreamy field. This scene is interestingly done. It has a magical quality about it with silhouettes, et al making it surreal.
Though the film seems slightly amateurish and theatrical in its treatment in the beginning, it soon gets a good grip and keeps you engaged. The climax is hilarious and well-executed by the actors.
"10ml Love" snuggly fits into the small 'budget' wonder. Go for it!
10ml Love Overview
Starring : Purab Kohli, Koel Purie, Rajat Kapoor, Tisca Chopra, Tara Sharma more…
Language : Hindi
Genre : Comedy
Banner : Alliance Media & Entertainment Pvt. Ltd., PVR Director's Rare, Dirt Cheap Pictures, Handmade Films Production
Release Date : Friday 7th of December 2012
Rating :
ApunKaChoice Rating: 5/10 from 1 reviews.
10ml Love is a Hindi movie starring Purab Kohli, Koel Purie, Rajat Kapoor, Tisca Chopra, Tara Sharma and is directed by.