Cast: Varun Dhawan, Shraddha Kapoor, Nora Fatehi, Aparshakti Khurrana, Prabhu Deva.
Director: Remo D'Souza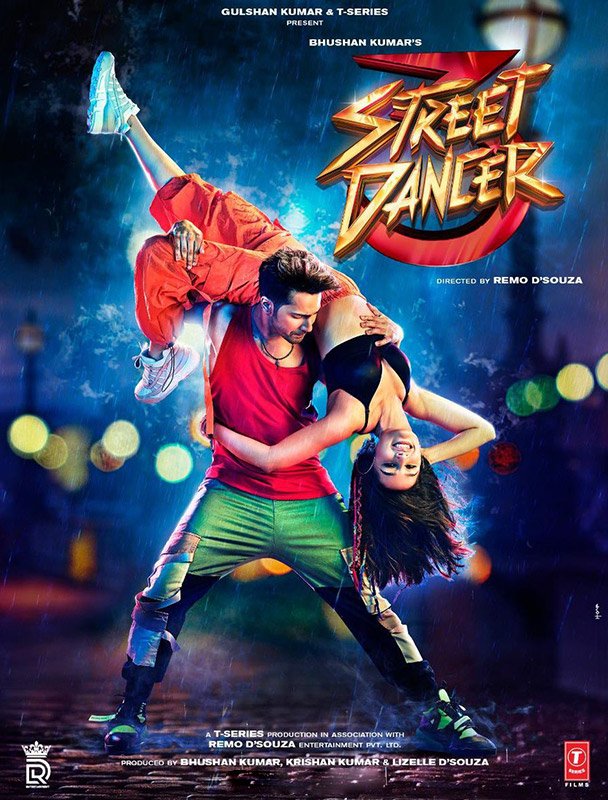 This movie hasn't wrongfully been called the longest episode of India's-Got-Talent-minus-the-ad-breaks. With an IMDB rating of 4.1/10, it isn't Varun and Shraddha's finest work. It is a dance movie that engages 3D for no purpose beyond hurling guided projectiles (ranging from hats to donuts) towards the audience. This dance-film rage started with Remo D'Souza's ABCD – ANY BODY CAN DANCE [2013]; the series being boosted by the second part ABCD 2 [2015]. So, let us analyze and find out if Street Dancer 3D fulfills our hopes and expectations.
Set in London, Street Dancer 3D delivers an abundance of loud and noisy calisthenics vexed by a plot that swings between ridicule and self-righteousness. Two dance groups, one Indian and one Pakistani, are at a constant fight. Varun Dhawan plays Sahej, who leads the Indian troupe, while Shraddha Kapoor as Inayat, leads the Pakistani troupe. Prabhu Deva runs a restaurant where both the troupes hang out, bickering over India-Pakistan cricket matches, or challenging each other to dance-offs. However, the 'important plot' involves a bunch of illegal immigrants who came in London with a lot of dreams, but are hiding out in a tunnel, hungry and homeless, struggling to make both ends meet. With Sahej carrying around the guilt of his own and Inayat wanting to help them, both teams enter into a coveted dance competition.
No matter what, the dance numbers in the film are smooth, colorful, zestful and frequently breathtaking. But, somehow they are also completely indistinguishable. One song can be replaced with another from an entirely different situation in the film and it won't make a difference. One of the big item-performance has been delivered by Prabhu Deva to his own classic number 'muqabla', which makes you nostalgic about a time when Bollywood item-numbers were so more fluid and joyful than it is right now.
Remo D'Souza saves the best performance for the last, where the Indian and Pakistani teams unite against the British dance troupe. The energy of the performers combined with the sheer rousing track does make this the film's one of the best moments.
Yet, it does not make up for the two and a half hours of corny plotting and overdramatic performances. Nora Fatehi is light-footed and agile on the dance floor but her permanent shocked and bewildered expression does not amount to acting. Shraddha Kapoor tries to do whatever she can with the slim material, and Varun Dhawan counterbalances it with overplaying.
The movie will leave you feeling exhausted. The 3D, though not as bad, is a little unnecessary. The movie is enjoyable for dance-junkies and it is advisable to steer clear if you don't belong to that category.