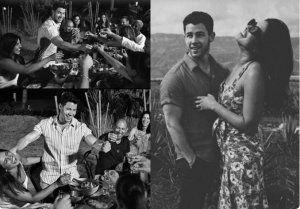 The lovers' week is already here and Valentine's Day is softly knocking at the cupid door. After a long break since Golden Globes, Nick Jonas came to the rescue of his fans with a couple of goals frames of Priyanka and Nick! The snaps are uploaded as monochrome but you can taste their colorful jovial time through the laughter of the couple and their friends. It seems like a re-connecting day with pals, dressed at their simplest yet looking fabulous. The slideshow of pictures gives the vibe of the vintage era, an era of less materialistic and more cheerfulness.
It was evident to the fans, that the couple was keeping a low profile owing mostly due to the strict schedules of the couples. But fans are anticipating an intimate get together on the 14th of this month!
This couple stirs the stereotyping and every passing day justifies the couple goals. Both the partners are workaholic and strongly dedicated to their works. But they get back into each other's arms when its holidays. According to our dictionary, this is what we call 'Priorities on Point'. Throwback to happy, cuddly Christmas wish pictures, we see several Polaroid pictures hanging on the Christmas tree. PeeCee had draped herself in a golden ensemble and Nick is in a casual sweater. They both managed to compliment the Christmas vibe elegantly.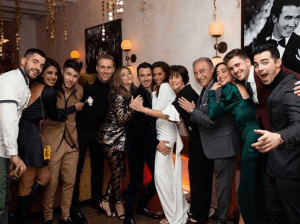 How to the catwalk on the balance between work and personal times, watch the Miss World Diva and her husband to do so. It was the wedding anniversary that made us awestruck on the couple again. Kevin Jonas and Danielle Jonas were celebrating their day and the two stars made sure not to miss out on the opportunity. It was a group photo, but PeeCee and Nick have a secret charm to divert our attention to them.
The family closed up embracing each other including our cute duo for the picture.