Congratulations to the First
History has been made! That's what the headline was after Oscars on Monday. The Korean film, Parasite which bagged four Oscars that night stole the limelight from Hollywood. It became the first non-English film ever to win the 'Best Film' category in the long histories of Oscars. Along with it, Bong Joon Ho also walked down the podium to receive the 'Best Director' award. The other two categories that Parasite became the chart-toppers were 'Best International Feature Film' and 'Best Original Screenplay'. After the gala award show, a lot of buzzes have been over the virtual worlds, including Bollywood celebrities praising the extraordinary work. But guess who had reviewed this film in October last year?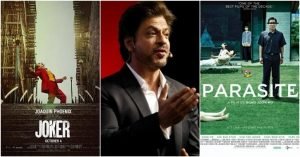 Tweet of Praises by Khan
None other than our own Bollywood King, Shah Rukh Khan! The film was released in India on 31st January 2019. And SRK watched the Korean film with his family shortly after its release. He appreciated the film in a tweet. He applauded the film how strongly it held the vivid picture of the society. How easily humans are swayed by social status. Somehow, the world silently chosen the status should be a parameter to measure happiness. That's what a parasitic nature is, and that's how we, the evolved human beings are trying to consume the happiness out of materials.
The conclusion
He concluded the review with a hopeful, better life. Do you know he watched this movie on the recommendation of his kids? Such a sweet gesture. But this is not where King Khan stops to surprise us. A twitter fan club had uploaded a video where Shah Rukh Khan is seen making statements that he wants to make a movie! He was driven into this desire after Joker and Parasite won in the Oscars. He was inspired by how both the movies screamed at the flaws of society. Meanwhile, there are speculations that SRK will make a more official announcement soon, till then buckle your seatbelts.