Jawaani Jaaneman, a fun movie which brings backs the old-age clichés linked to singledom!
The movie comes in the category of comedy, and actors have done a great job when it comes to acting. They have done commendable work when it comes to spewing some brilliant lines in terms of dialogues. For some time, the audience might feel that the film is just walking rather than bravely running on a tightrope. It was instead a pleasant surprise to see a hero with a minor, but a signifier of an advanced age who used to sport glasses to read distinctively and was very uncomfortable with them. Saif Ali Khan is seen playing the role of Jazz, and Tabu plays a quick role of Ananya, who happens to be a hippie past of Jazz. Tabu is seen to show her poker-faced turn.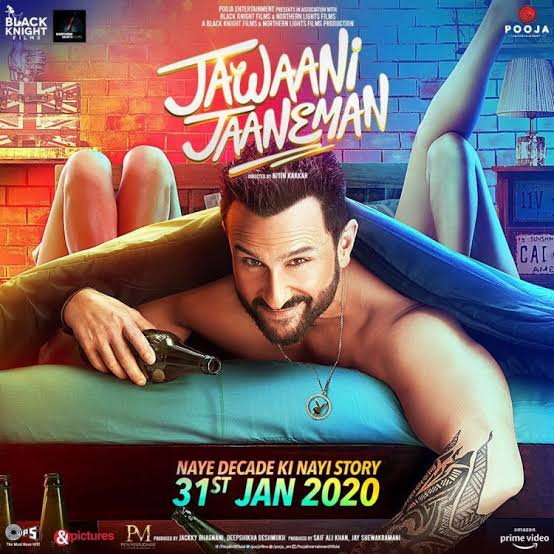 Jazz has a very amiable neighbour who happens to be a hairdresser: Thea (Kubbra Sait), who does not reveal her actual age. The past of both Jazz and her was complicated, and they left it behind long an ago to live in the future they have, which is even more depressing. The film goes on reflecting the hackneyed of all the single life clichés one faces. The film wears a cap of a modern-day Hollywood movie which is set up in a London comedy style but is ultra-sentimental. What a combination, right? The film tries to portray that singles lack a moral compass and are incredibly selfish and irresponsible when it comes to their freedom. But also, not all of them are alike and the same. Some of them do have a parental instinct and urge to belong to a family. They feel that family is all they got, and family is what is all.
The most cringing question of the film is 'Who will look after Jazz when you are ill and old. This is the question that is thrown at the audience. To mention, I did take this question very personally and did want to convey to the makers that children should not be treated as a guarantee for being looked after in the old age. Also, the relationship dynamics have undergone a considerable change, and children in the current generation have to fend for their selves.
A Young and a Wild Movie!
Jawaani Jaaneman, the story revolves around the plot where actors don't wish to be their actual age. Saif Ali Khan plays the role of Jazz, who is very casual, swaggy and does reflect a great sense of humour. His only idea in life is to replace the word 'LOVE' with 'LUST,' Jazz becomes the philander who was once the most romantic guy named Sameer, in Dil Chahta Hai. All that he does in the entire life is to drink, party, be a womanizer or get his hair colored. His primary occupation was that he used to work in a real estate business and make loads of money.
Like any Bollywood masala movie, Jazz wants to live a movie life where he is young, carefree, and always surrounded by a woman. He loves a woman and has been shown that he can go to any extent to get female attention. He is shown as the biggest womanizer who loves partying hard! But according to the globe's rule: Not everything good remains forever, all good things do come to an end. Jazz one finds day is seen fighting with his ideas of life when he is informed that he is going to be a father.
The film is seen opening with Jazz (Saif Ali Khan) entering a club, the perfect place for any middle-aged man who is fond of being young always. The entry of Saif is shown in a very happening way and background music of Jeene Mera Dil, which reflects that he has all plans to hit on a girl. Although we are sure that the audience will be taken back by another remake of a song, which is not even enjoyable. One solid tip, make sure you do not go about judging this happy go lucky soil; he might look very hard from outside, but from the inside, he is just another dog who is looking for love and loves to be hugged!
The overall execution of the film is different and unique and not like any other Bollywood movie. The lead characters are exposed immediately, and it is evident that there have been enough experiments with the film and script. The video consists of every day, which will bring a parade of claps and keep the eyes rolling throughout the film. The writers of the film have managed to show the character of every actor very beautifully. As it is a new age humour film, it has added quite a bit of realism to the film.