Ayushmann Khurrana is back with another rom-com drama, Shubh Mangal Zyada Saavdhan, ready to treat the audience with a dose of laughter and some serious "Gyan" on same-sex love. Yes, you heard that, right! Ayushmann has some out of the world forte to give spectacular performances in taboo movies. With Vicky Donor (2012), this national award-winning actor has set out on a never-ending streak to educate the Bollywood buffs about societal taboos, in a light-hearted manner.
Shubh Mangal Zyada Saavdhan is the sequel to Shubh Mangal Saavdhan (2017). The movie is going to hit the theatre on 21st February.
Shubh Mangal Zyada Saavdhan – Quick Information
Release Date: 21st February 2020
Director: Hitesh Kewalya
Writer: Hitesh Kewalya
Star Cast: Ayushmann Khurrana, Jitendra Kumar, Neena Gupta, Gajraj Rao, Manurishi Chaddha, Sunita Rajwar, Maanvi Gagroo, Pankhuri Awasthy, Neeraj Singh, Bhumi Pednekar (special appearance)
Shubh Mangal Zyada Saavdhan – Trailer launched
The official trailer of Shubh Mangal Zyada Saavdhan was launched on 20th January by T-series. Like any other Ayushmann starrer movie, this one too is full of quirky dialogue deliveries. It seems to be a joyride full of comedy, emotions and a lot of drama. Not to forget the second lead role played by the Kota Factory actor Jitendra Kumar.
As the almost 3-minutes long trailer unfolds, we get to know Kartik (Ayushmann) and Aman (Jitendra). Both are head-over-heels in love with each other. But latter's so-called educated parents (Gajraj Rao and Neena Gupta) are not ready to accept this homo-sexual relationship at any cost.
Aman's parents find him a beautiful girl and Aman disapprovingly agrees to marry her. However, Kartik is not ready to give up and keeps up the fight as he feels same-sex relationships too deserve happy endings.
As usual, Ayushmann is doing absolute justice to his character. He is exhibiting excellent comic timing. We can see him carrying off a nose ring with utmost swag. Jitendra too is impressing the audience with his naivety and simple nature.
The hit Jodi of Gajraj Rao, and Neena Gupta has worked wonders in their earlier movie Badhai Ho. This time too, they are tickling the funny bones of the audience with their stunning chemistry and fiery dialogues.
Shubh Mangal Zyada Saavdhan – Cast and crew
Ayushmann (Kartik) and Jitendra (Aman) plays the lead roles while Gajraj Rao and Neena Gupta are the stubborn parents of Aman. They introduce Aman to Kusum (Pankhuri Awasthy). Bhumi Pednekar will be there in a special appearance, and we are waiting eagerly for her swag entry in the sequel. There are other supporting actors like Manurishi Chaddha, Sunita Rajwar, Maanvi Gagroo, and Neeraj Singh who can be seen as Aman and Kartik's acquaintances and relatives.
Theme of the movie
Shubh Mangal Zyada Saavdhan is a comedy movie based on the serious issue of homosexuality. The movie aims at imparting some serious lessons to the society about same-sex relationships. Very few films dare to discuss so openly about such topics. One such movie which talks openly about homosexuality is "Ek Ladki KO Dekha to Aisa Laga" starred by Sonam Kapoor, Raj Kumar Rao and Regina Cassandra.
Shubh Mangal Saavdhan (the commencement of this series)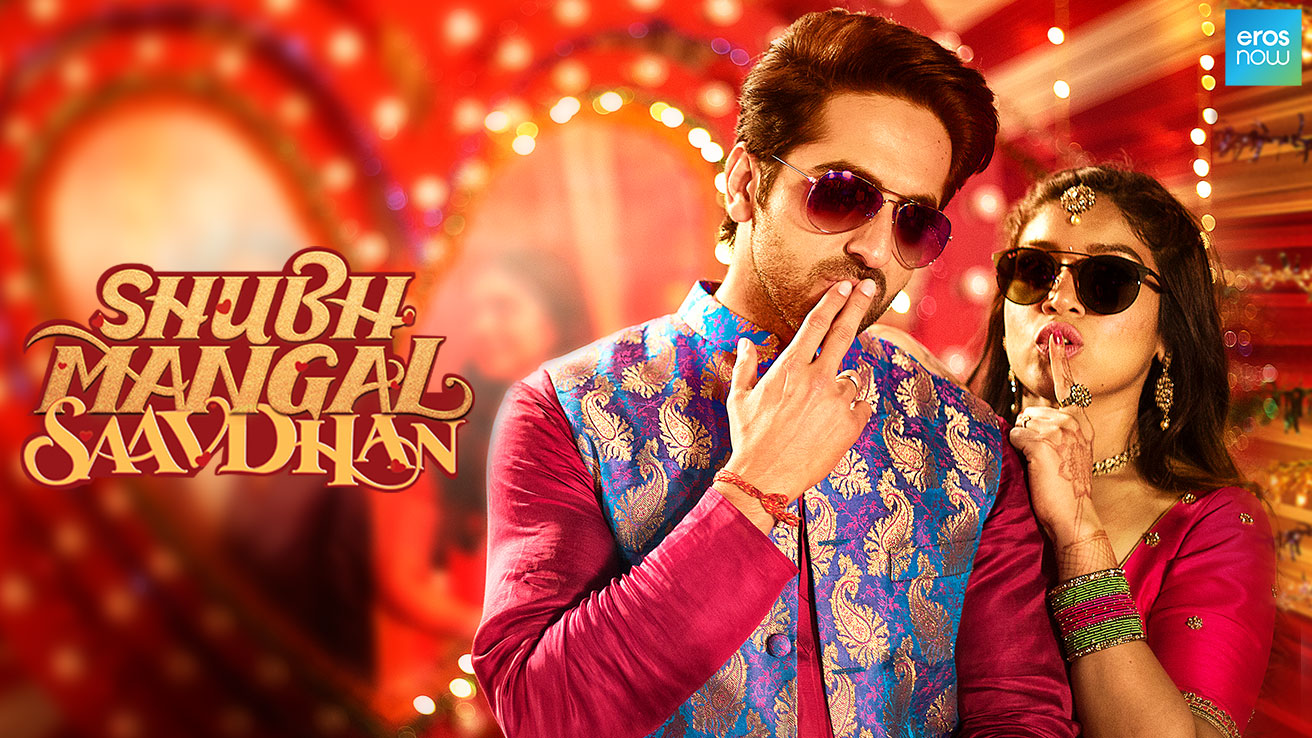 The prequel to Shubh Mangal Zyada Saavdhan too deals with a theme that is considered a huge taboo in India society. It depicts the problem of male erectile dysfunction. The movie is about a bubbly girl Sugandha and a Gurgaon guy Mudit, who gradually fall in love with each other and persuades their respective families for marriage. This arrange cum love marriage soon starts facing problems as the couple try to make love before tying the wedding knot.
Mudit realises that he has erectile dysfunction. Sugandha tries to encourage him by all possible methods, but Mudit often shows frustration and lack of enthusiasm. The matter finally comes to lights, and both families come to know about the issue. '
The movie depicts how in this modern era too, a girl gets blamed for everything. No one wants to accept that a man can have some problem too.
It was a blockbuster hit, and we are eagerly waiting for the second innings.
Interesting facts on Shubh Mangal Zyada Saavdhan
Shubh Mangal Zyada Saavdhan has some peppy music numbers. We are already grooving to the remake of "Gabru" and "Yaar Bina Chain Kaha Re".
Also, soon after the trailer release, the Facebook and Instagram news feeds are flooded with memes made out of the dialogues. And trust us, they are hell-bent funny.
The movie is getting lots of love from the LGTBQ community. The kissing scene between the two male lead actors is a revolutionary move, indeed.
Promo activities
We got a glimpse of the first teaser in the form of a funny, animated video a few months back. Now, the first trailer of Shubh Mangal Zyada Saavdhan is out, and we are eagerly waiting for the second one. Before trailer release, Ayushmann released posters of his latest movie too. The cast and crew are attending several promotional events. The PR team is doing its best for reaching out to the mass in an appealing way.
Shubh Mangal Zyada Saavdhan is all set to entertain and at the same time, educate the audience. The cast, script, dialogues, comic timing, performances and music everything is at its best. Let's wait for the big day and hope Ayushmann again delivers a blockbuster hit.